Testimonials
---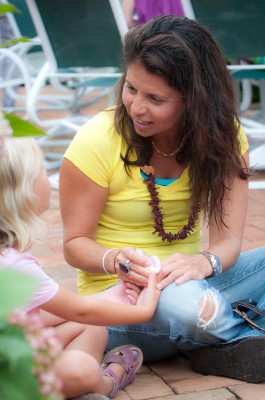 Jodi's students and clients love her energy, her frank attitude, and her enthusiasm. Here are just some of the things that they have to say:
Swim Instruction & Coaching
 I have known Jodi since my first born went to Episcopal pre-school almost 7 years ago! I love that she knew my son so well and told me all the little stories that had happened during the day when I picked him up.

We stayed in touch and over the last 6 years, Jodi has been teaching and swimming with my children, all three of them.

She is attentive, fun, firm, interesting, flexible and gives them just the right amount of independence within a structure frame work.

On occasion, she has taken them on cultural tours of different museums and I know they will come back with tons of stories about what they learned. She engages with them as a teacher but also as a friend or even big sister.

I would recommend her to my best friends and I already have!

- C.C Paul, New York City
                                      – Eva, New York City

To: Elisabeth Landis

My daughter loved the lesson! She had a blast and liked you very much.

We look forward to seeing you next week!

Best regards,

- J. Pike, New York City



To: Esther Malka Issever

Esther Malka Issever is an outstanding swim instructor. She pays attention to the level of the student and responds appropriately to make the student improve.

She helped me with specific techniques of various strokes — and imparted the joyous spirit of swimming as well. It has been special to work with her.

To: Jodi Roberts

Jodi is an amazing swim coach, and I highly recommend her.

I started working with her a year and a half ago, in my effort to become physically normal again after a difficult car accident.

She is sensitive to my needs, and I have seen her work effectively with the very youngest children (getting in pool for the first time) to teenagers to older adults such as me. She is great at what she does and such a pleasant person. I have worked in the past with many coaches — figure skating, tennis, cross fit exercising, as well as singing. So I know when the coach is awesome, as Jodi is.

- Barb Burley, New York City
Jodi was the best thing that happened to our family. My four-year-old started lessons when she turned two and was petrified of the water. Thanks to Jodi's patience and professionalism and obvious love for what she does, [my daughter] is swimming confidently and loves the pool. We are looking forward to having our younger daughter start swimming with Jodi this fall.

- Jane Gerard, New York City
When I decided to start a swim team, the first thing I needed was a coach. I found Jodi's number, and she jumped on the idea. Her enthusiasm and love of teaching swimming were so evident through her excitement to be our coach. Under her coaching, in just 7 lessons the students improved so much. We were swimming as if we were completely different people.

-Esther I., age 16
All four of our children swim with Jodi, and having had experience with a variety of swim teachers, Jodi by far has been the best. Her ability to engage the kids–however old and whether working individually or in a group–is remarkable, and the kids are learning and having a great time too. We trust her implicitly, and she has made a great difference in our kids' lives as well as ours–we feel lucky to have her as a teacher and mentor both in and out of the pool.

- Marcy S., New York City
Tutoring
Jodi's approach with children is no-nonsense yet extremely nurturing. She has clear, firm expectations that my children respond amazingly well to. Her presence has calmed our household in many ways. I believe all children could use a little bit of Jodi in their lives!

- Carrie W., New York City
Cultural Excursions & Outings
Our daughter loved the cultural outings with Jodi and took great pride in detailing all her trips to the museums and parks in her journal. Living in Manhattan, we took for granted all the wonderful things that the city had to offer and it's amazing to have someone like Jodi teaching our kids.

- Jane Gerard, New York City
For more information about any of these services or to schedule services, please contact her at jodi@jodi212.com.
© Copyright Jodi L. Roberts & jodi212 LLC